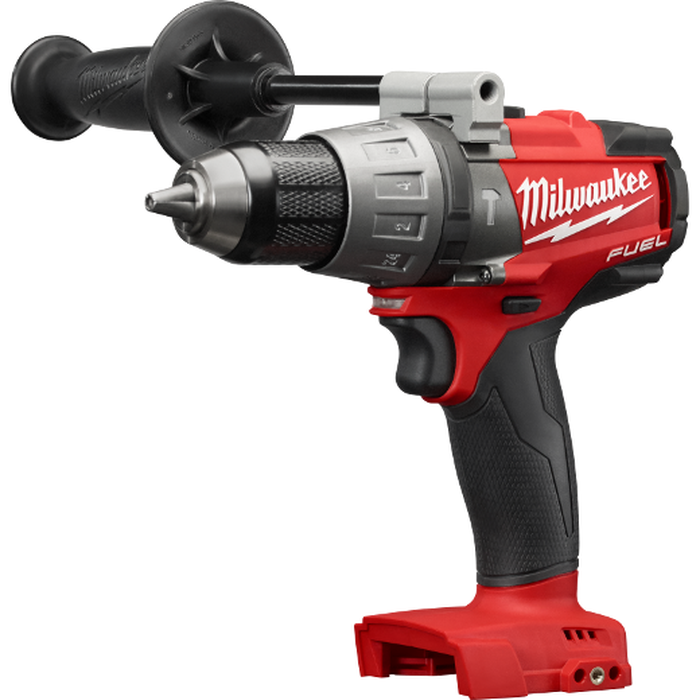 Hammer Drill
Cordless Hammer Drill Specs
Voltage 18
Weight 3.5 Lbs.
Length 7.75"
Torque 1200 Inch Lbs.
Chuck 1/2"
Includes 1 Lithium Battery, 2.0 Amp Hours of run time. 4.0 Amp Hour Battery add $3.50 (Includes Charger)
The M18 FUEL™ Hammer Drill is the Most Powerful 18-volt cordless drill on the market. The POWERSTATE™ Brushless Motor delivers up to 1,200 in-lbs of torque and up to 2,000 RPM, providing faster drilling speed under heavy load to increase productivity. At only 7.75" in length, it is the Most Compact drill in its class, reducing fatigue when used for extended periods of time and allowing access
to tight work spaces. REDLINK PLUS™ intelligence ensures maximum performance and protection from overload, overheating and over-discharge. The REDLITHIUM XC5.0™ Battery Pack delivers more work per charge and more work over the life of the pack than the competitors. The M18 FUEL™ Hammer Drill's all-metal ratcheting locking chuck provides maximum grip, bit retention and durability.
Rental Prices
Day- $27.50 / Week- / 4 Hours- $18.50
Request a Quote