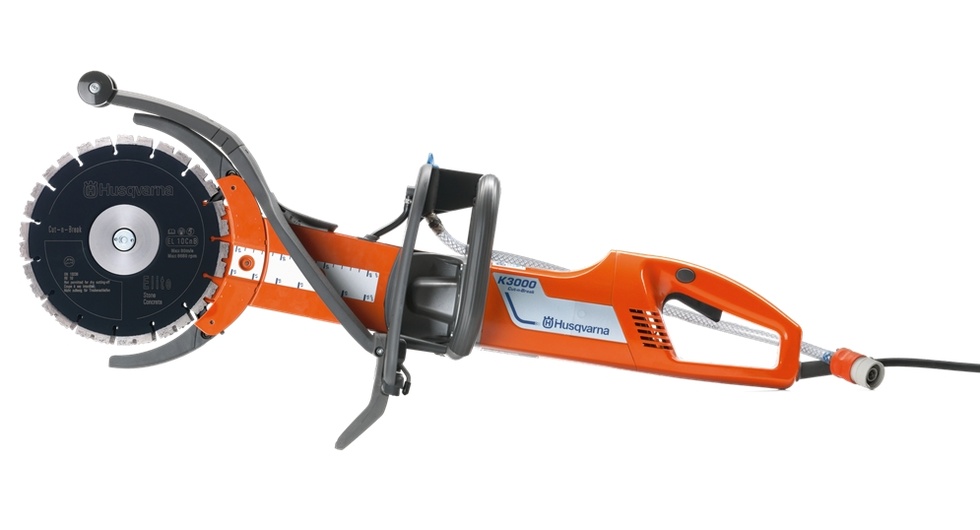 Concrete Cut Saw 10"
Husqvarna K3000 Cut-N-Break
Our Cut-n-Break saw is the natural choice when you need to cut deep from one side of the foundation. The K 3000 Cut-n-Break enables you to cut as deep as 15" from one side, 3" at a time. Suitable for flush cutting close to walls and floors as well as for smaller jobs like window openings where you want to avoid over cutting at the corners. The unique method allows cuts up to 65 mm deep. The two specially designed, high-speed and powerful blades make a core in the saw cut. The core can then easily be broken off, using the accompanying breaking tool. When the core has been broken off, you continue cutting until the required depth is reached. Cut-n-Break is suitable for a wide range of applications. For cutting pipes in pipe trenches, grooves for cabling, and expansion joints and crack repair. It's perfect for window and door openings where you don't want over cutting at the corners. And excellent for burying signal cables. Voltage: 110 Volt Weight: 23 Lbs. Decibals: 109 (Ear Protection Required) Wet Cutting Only: Has Injection System Length: 36" Total Cutting Depth: 15"
Concrete Saw Cutting
Operating
Rental Prices
Day- $232.50 / Week- / 4 Hours- $180.00
Request a Quote