Spring is a perfect time to fertilize, as your lawn will need a pick-me-up from the cold winter months! During that period of dormancy, your grass and roots were deprived of key nutrients needed for healthy growth and color. A spring feeding will give your lawn a "wake-up-call", by reviving the grass and strengthening roots to help it withstand potential stress from rising temperatures.
You should split your spring applications of fertilizer into two parts: once in early spring and again in late spring. Before you begin applying, note that you need to wait until soil temperatures have reached 45ºF, as this is a key indicator that cool-season grass has emerged from dormancy.
Put down an early spring application of Jonathan Green Crabgrass Preventer sometime between early March and April. This feeding will help in controlling existing weeds and preventing crabgrass and other grassy weeds from coming up during the growing season. If you apply this fertilizer, be aware that you can't seed your lawn until fall.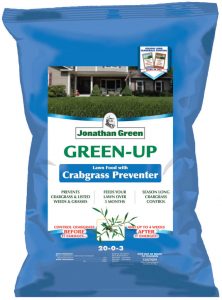 Early Spring Fertilizer
Jonathan Green Crabgrass Preventer Plus Green-Up Lawn Fertilizer
Pre-emergent and post-emergent crabgrass control
Feeds your lawn for three full months
Apply in early spring to prevent germination of crabgrass and other grassy weeds