Jonathan Green Love Your Soil®
Proudly serving Marlborough & Framingham MA for over 75 years
---
All natural and organic, Love Your Soil stimulates soil microbes and creates a biologically healthy soil. This soil food helps to loosen heavy, hard packed soils, and releases trapped nutrients. You can grow better turf by creating better soil!
Key product features:
Helps loosen soil for deeper root growth
Revitalizes soil By improving air & water flow
Stimulates soil microbes creating a biologically healthy soil
Makes top soil out of subsoil
Use on existing lawns, when seeding to enhance grass root mass development, and on cool and warm season grasses. Your lawn soil will become more alive and porous allowing water, air and grass roots to enter the soil more easily. Love Your Soil also increases the grasses' resistance to drought and heat stress, and helps to kick-start your lawn in the spring.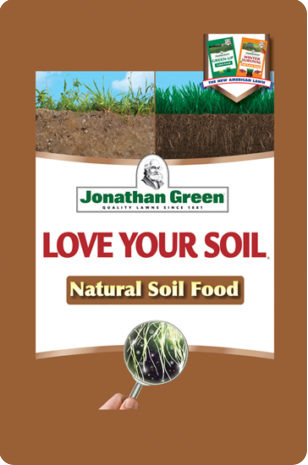 Environmentally friendly and safe to use around people and pets. It is a homogeneous formula that applies easily with any spreader. Contains humic and fulvic acids, calcium, sulfur, iron and molasses.
For best results, apply to a dry lawn before a rain or water in after application. For very hard soil, repeat applications twice per year may be necessary. You may seed with this product.
Tomatoes and Vegetables: Mix 1 cup per 10 sq. ft. of garden area when preparing soil for planting. For established plants, apply 1/2 cup around the plant base and water in.
Trees, Roses & Shrubs: Spread 1 cup per inch of caliper around plant base and water in. Mix 1 cup per inch of caliper into the back fill when planting new trees and shrubs.
Hanging Baskets: Apply 1/2 cup per hanging basket and water in.
This product is available in the following bag sizes:
3.6 lb. (1000 sq. ft.)
18 lb. (5000 sq. ft.)
54 lb. (15000 sq. ft.)